Winter comes with a boatload of tasks, not the least of which is making sure you've got a properly winterized car. It sure would be nice to have it all broken down into something like 7 easy steps to a properly winterized car. Oh, wait!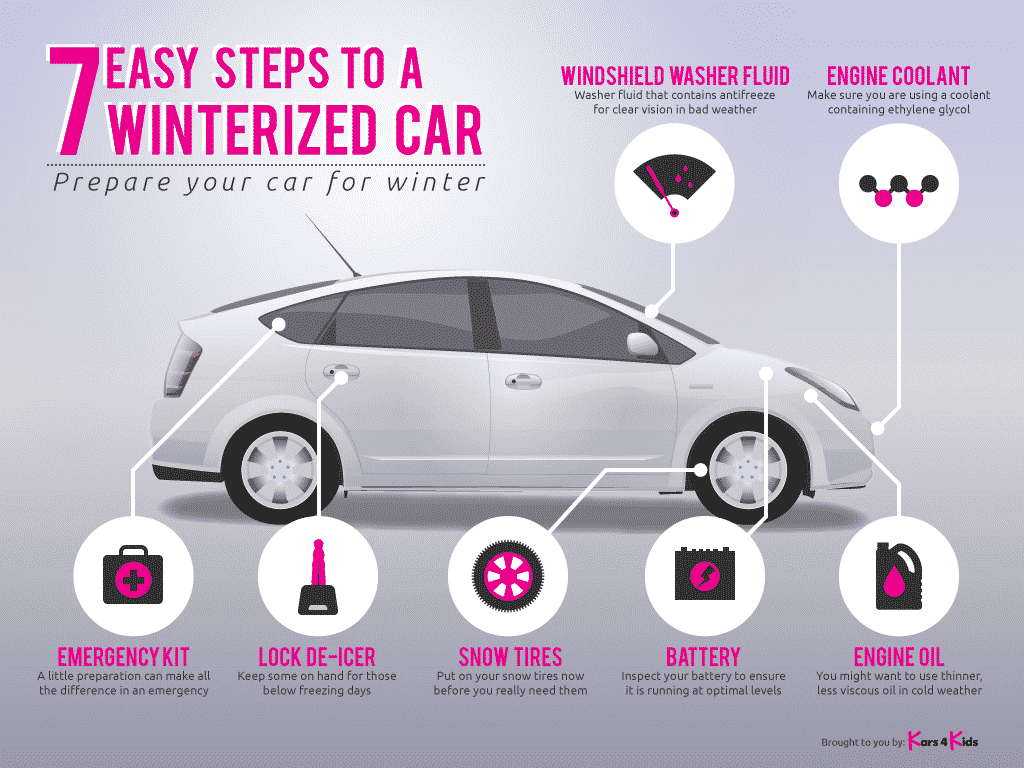 See what we did there?
You can click the infographic, print, and even laminate it to keep it on file for future reference. And of course, best of all, we made infographic easily available so you can share it with others on your own blog or website.
Here's the embed code. Just copy and paste it into the html/text side of your blog:

Looking for a more detailed breakdown of the 7 steps you need to take for a fully winterized car? Here you go (you're welcome):

The oil you use in your engine is affected by the amount of heat generated by your engine. In winter, you need thinner, less viscous oil. Your owner's manual should offer some advice on the type of oil that's best for your car. In general, however, if you use 10W-30 oil in summer, you might want to use 5W-30 oil when you get your oil changed in fall or winter.

The coolant system of your car prevents your engine from overheating and also protects it against corrosion. As summer turns into fall, you want to make sure you're using a coolant that contains ethylene glycol. The ratio of coolant to water changes according to the season. In winter, most vehicles do nicely with a ratio of 60% coolant to 40% water.

Battery capacity is reduced in cold weather so it's important to have your battery, terminals, cables, and fluid inspected before winter hits. If you're going the DIY route, the battery cables should be examined for cracking and small breaks. The terminals should fit tightly with all connections nice and tight. Check the level of your battery fluid and if necessary, top it up with some distilled water. Check how much voltage remains in your battery. 12.6V-12.8V is considered a full charge.
Consider the question: Do you need a new battery to make it through the winter?

The changing weather means you need better traction. For that you need snow tires and you should get four of them. Some prefer the all-season tires because they don't have to be changed and you don't need to store a second set. But if you live in an area where winter hits big time, the smart thing to do is to use snow tires in winter and regular tires in summer.

In winter, your car windshield must contend with truly nasty, cold, gunky grime. For the job of keeping that windshield clean, you need washer fluid that contains antifreeze. But do a spot check first, to make sure the washer fluid won't damage your paint job.

One of the nastier winter issues is frozen car door locks that can cause your car keys to break if you try and force those locks open. Whatever you do, don't use warm water to thaw a lock; some water may get inside the lock and cause constant refreezing issues. Instead, purchase some deicer at a discount or hardware store and keep it handy (like NOT in your glove compartment which won't do you any good if you're locked out of your car).
Keep a tube of the stuff at work and at home so you'll be able to manage wherever you are.

You should absolutely have an emergency kit in your car, but if you don't, and you want to create one, here are some suggestions of things you might include:
Engine oil
Washer fluid
Coolant
Radio
Flares
Blankets
Boots
Flashlight
Booster cables
While getting an early start on getting your car winterized would be nice, it's not too late to get your car in tip-top winter shape. It's only smart to put winterizing your car at the top of on your to-do list for easier, safer holiday shopping and traveling. Because a properly winterized car not only saves wear and tear on your car, but helps keep you and other drivers on the road out of harm's way.